Tom Parker Bowles

Profession:

Writer

Place/Date of Birth:

London, 18 December 2020
Tom: My stepfather speaks absolute sense - April 13 2007
Like his stepfather Prince Charles, Tom Parker-Bowles has very strong opinions about food, and passionately believes in decent farming conditions.

"I think he speaks absolute sense," Tom says. "But he's been saying it for years.

"The three big scares to hit British farming in the past 10 to 15 years - BSE, foot and mouth disease and bird flu - have made us look at where our food comes from more closely.

"With BSE, we found out that some cattle were being fed the remains of their fellow creatures - unthinkable.

"Foot and mouth showed the stupid, often unnecessary distances often travelled by animals up and down the country, which wasn't the cause of foot and mouth but helped it spread.

"And bird flu showed us the very horrible, squalid, cruel, crowded and unhygienic conditions that intensely farmed birds are raised in. Just because we want cheap meat."

But according to Tom, who will be co-hosting Market Kitchen for UKTV Food from April 16, there is no easy answer to improving people's diets.

"Organic meat is very expensive," he admits. "There are a lot of people who say all organic meat is good, and all non-organic stuff is bad, which is absolute rubbish. You can get very bad quality organic food, flown in from a country where we have no idea of their organic standard. There's no black or white."

Camilla to become grandma - Mar 20 2007
Prince Charles and the Duchess of Cornwall are to become grandparents, it seems.

No, not William and Kate - Tom Parker Bowles, Camilla's son, told the Mail on Sunday that he and fashion journalist wife Sarah Buys are expecting their first child.

"We have told our friends and family and they are all delighted," he said. "Mummy is absolutely over the moon at the prospect of being a grandmother."

Sarah, 34, who is reportedly three months pregnant, added: "It is the best news ever and we are thrilled."

Tom, 32, who is a columnist for the newspaper's Live magazine, said: "Sara is going for another scan next week and we're hoping everything will be fine. I'm very excited and honestly don't mind if it's a boy or a girl, as long as the baby is healthy."

Camilla has recently been convalescing after a hysterectomy operation.

Restaurants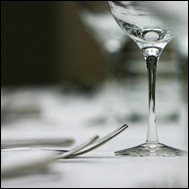 Book Restaurants online
Book Restaurants online in Kensington.